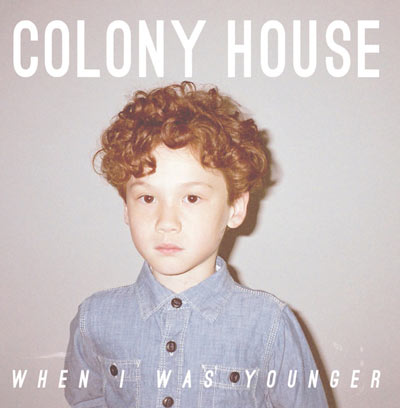 COLONY HOUSE - When I Was Younger (Descendant Records)
Count this reviewer among the skeptics. The Chapman boys have a band? Sure they do... You mean the same guys who were touring with their dad--on stage--as teenagers? The ones who were thrown onto a VeggieTales soundtrack some ten years ago? Of course they have a band.
But then they did something unexpected. They took it slowly. Honed their craft. They hit the road. They built a social media following (over 30K on Facebook). They methodically released a faithful stream of EPs--never biting off more than they could chew--each one sounding a bit more "like them" than the last. By the time they changed their name and released their first EP as Colony House earlier this year, they had accomplished something quite profound. They had created an appetite and an anticipation for a
debut
release--literally years in the making--that not a lot of bands have the luxury of doing.
Several songs (literally half the album) had been released (or leaked) in recent months. But to now sit down and finally ingest the collection as a whole--each track sitting in its own assigned seat, complimenting the one before and the one after--reveals what I've long now suspected about these guys as artists. I'll admit my expectations were sky high. And like a great meal at a fine establishment, When I Was Younger hits the spot. In all the right spots.
It's not too early to call this a masterpiece. Let alone debut albums, this is the best album--period--that I've heard all year (and maybe
in
years). A fellow listener put it best: "It sounds like a fourth or fifth album from an established, veteran band." It will be impossible here to overstate the blend of lyrical depth, musical maturity, and artistic tact. The instrumentation almost always elevates the lyric, and that is a rare find indeed in modern music. Each song is extremely comfortable in its own skin. Not one cut feels forced or like filler. Everything fits, but every song is distinct in personality.
A colleague asked me the other day what my favorite CH song was. It stopped me in my tracks. This is so unlike me. I have a favorite of everything. But it had never even occurred to me to pick a favorite off this record. And I realized it was because I couldn't begin to. Nor do I need to. I love "2:20" for its rowdy, surf-rock sensiblity. I'm still partial to "Keep On Keeping On" for its ability to take a cliche, and turn it into a profound, motivating rock song. "Roll With The Punches" will scratch your retro itch. "Moving Forward" would fit nicely on any of Coldplay's last three albums, and reaches incredible anthemic heights. What a profound declaration. And the underrated "Glorious" is among the most practical and unique takes on heaven ever captured in music.
WIWY is marked by layer after layer of production and nuance, all the while avoiding overkill. Thematically, it does a wonderful job of portraying the hope of the Gospel without ever once giving a sermon.
Will Chapman's never-sit-still drumming married with Caleb's singer/songwriter tunes make for a fairly unique brand of rock and roll. And the latter utilizes his falsetto as deftly as anyone you'll hear in modern music. To say it's "Keane meets Killers" is too easy. Tennessee-flavored Brit-Rock doesn't quite do it justice either. As the album ages toward its end, it becomes increasingly difficult to believe that these lyrics, concepts and arrangements came from a rookie band comprised of twenty-somethings. It listens like a greatest hits of sorts, but is conceptually too airtight to be so.

WIWY ends with "Lose Control." The song's primary hook is an all-too perfect summary for this collection of music: "We can't keep fighting for a steady life, so I'll ride the wind like a feather toward home." If most of us could have only learned that truth in our early 20s, how much wasted mental energy and frustration could have been saved...
I found myself looking ahead the other day. Can't wait til these guys release the follow up. I quickly caught myself... Their debut album isn't even out yet. But that's what this band will do to you. This record was a long time in the making, and the finished product is every bit as thorough as the process must have been. If CH has the ability to equal this collection both in quality and concept with future releases, they will eventually take their rightful place among the greats. In the meantime, take a long drive and absorb this one for what it is.
***** out of 5 stars